There is a wide selection of books, postcards, prayer cards and mementos that you can purchase when you visit the Chapel.
A team of helpers from Bradwell village look after the clearfix and visit regularly to maintain stocks.
If you would like to buy by post download and print the order form.
---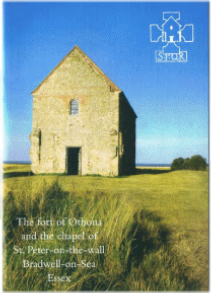 The Fort of Othona and the Chapel of St Peter-on-the-Wall, Bradwell-on-Sea, Essex
This guide was first published in 1966 and reprinted in October 2007.
Price £3.00
---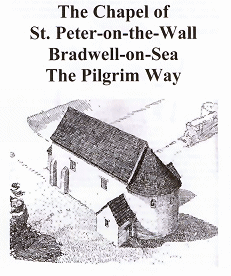 The Chapel of St Peter-on-the-Wall, Bradwell-on-Sea, The Pilgrim Way
This guide gives a brief history of the Chapel and its history since it was built by St Cedd in 654 AD.
Price 20p
---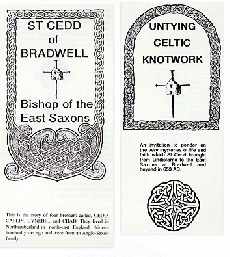 St Cedd of Bradwell, Bishop of the East Saxons and Untying Celtic Knotwork
These two guides were written by the Rt Reverend Martin Wallace, Bishop of Selby when he was Rector of Bradwell and Chaplain of St Peter's Chapel.
"Bishop of the East Saxons" describes St Cedd's life from his childhood in Northumbria to his death in 664.
"Untying Celtic Knotwork" looks at the meaning of the Celtic patterns and their significance for us.
Price 20p each
---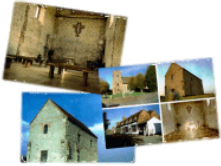 Postcards of St Peter's Chapel
There are three cards as shown above: interior view, external view and composite with four views.
Price 90p for a selection of three
---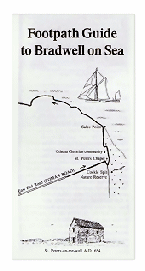 Footpath Guide to Bradwell-on-Sea
While visiting St Peter's Chapel you may want to take the opportunity to walk around the village of Bradwell-on-Sea. The walk takes in Bradwell village, St Peter's Chapel and the surrounding beach and Cockle Spit, along the sea wall passing the de-commissioned Bradwell Nuclear Power Station and finishing at Bradwell waterside. Starting point is Bradwell village centre but you can start from wherever you have parked your car in Bradwell.
Price 20p
---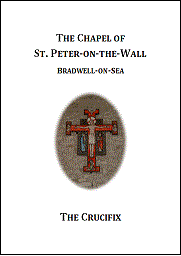 The Crucifix
This is a guide to the Chapel's crucifix written by the Rector of Bradwell, Reverend Hugh Beavan in 2004.
The crucifix was designed by the artist Francis William Stephen and was dedicated by the Rt Reverend Henry Wilson, Bishop of Chelmsford in July 1949 at the first Bradwell Pilgrimage to take place after the Second World War.
Price 20p
---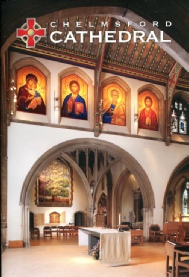 Chelmsford Cathedral booklet
A beautifully illustrated guide that takes you on a pilgrimage through the building - to help you understand its history and appreciate its beauty - but above all to see its core purpose and function as a living church and an active cathedral.
Price £3.00
---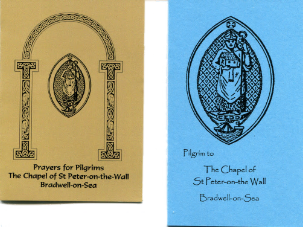 Prayers for Pilgrims - gold card
Prayers for use whilst approaching, within and when leaving the chapel.
Price 30p
Pilgrim Prayers - blue card
Prayers used by St Francis of Assisi and Sir Walter Raleigh together with a prayer for unity and a prayer for St Cedd and the saints of Essex.
Price 30p